MIDWEEK FLEXI £99
Flat Rate £10 per game ANYTIME on Monday to Thursday except bank holiday Mondays
Flat Rate £5 Academy for Academy Course
*Hold an official CONGU handicap at extra £49 admin fee and join all Seniors Comps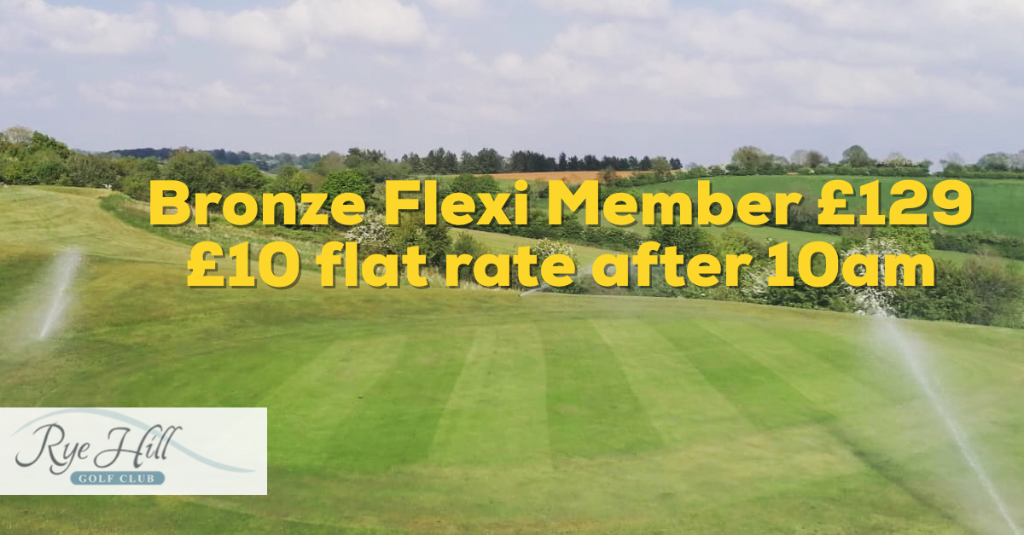 BRONZE FLEXI MEMBERS £129*
Flat Rate £10 per game

AFTER 10AM

7 days a week for Manor Course
Flat Rate £5 Academy for Academy Course
*Hold an official CONGU handicap at extra £49 admin fee and Join Club Stableford & Medals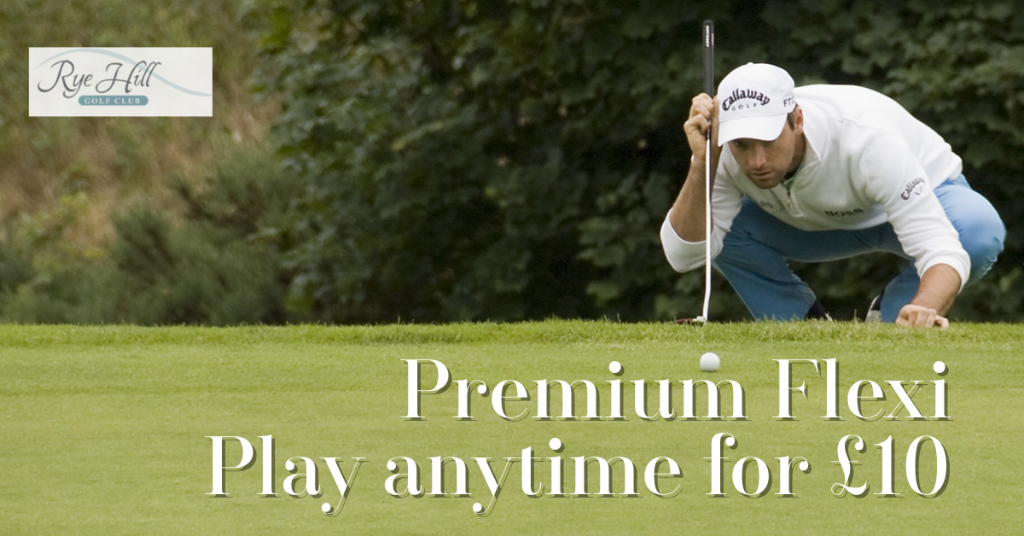 PREMIUM FLEXI MEMBER £278
Flat Rate £10 per game ANYTIME for Manor Course

Flat Rate £5 Academy for Academy Course
Hold an official CONGU handicap and Join Club Roll Up and ALL Club including MAJORS
ALL FLEXI MEMBERSHIP BENEFITS:
Book tee-times 14 days in advance by phone or through the proshop
Member Guest Rates applicable
Member Buggy Rates applicable
RYE HILL FLEXI MEMBERSHIP Full TERMS & CONDITIONS
Flexi Membership is introduced on 2020 to keep golfers golfing during the pandemic. The Flexi Membership expires 31st March 2023. Annual Renewal fee is subject to change without notice. All fees are non-refundable regardless of course usage and course closures including government lockdowns.
All Membership Applications are subject to Club Approval
The Rye Hill Flexi Member Card remains the property of Rye Hill Golf Club
Strictly One Card valid for One Member
The Flexi Member Card is non-refundable and non-transferrable
Flexi Member Card must be presented to the proshop before play. Guest Green Fee must be paid if no card is presented
No Discounted Guest Rates Applicable
Rye Hill Golf Club reserves the right to terminate the member's flexi membership anytime. In the event of membership termination, Rye Hill Golf Club will refund £50 or prorata of the remaining year whichever is lower.
Ready to join the Club? Fill the Form out below and one of our team will be in touch asap. Please note all membership applications are subject to Club Approval